Machu Picchu Facts
Machu Picchu facts: It's over 32000 hectares of one of the most famous ruins of the world – yes, of course, it's Machu Picchu.
Situated on the eastern slope of the Andes, this magical place attracts visitors for centuries.
The place is at 2430 m above the sea level and it is estimated that it's built-in the 15th century.
1911 is a very important year for this Incan place.
That is the year when explorer Bingham III visited this place and published his existence for the first time.
Hiram Bingham was a Yale University professor at the time.
It's definitely something that will stay in your mind as long as you remember because that view of the city and of the Andes that surrounds you is absolutely divine.
Check our suggestions at Salehoo reviews on the topic of product reviews and find out everything you need to know.
The deal is that the professor was not searching for Machu Picchu.
He had in mind to find the last capital of the Inca Empire, Vilcabamba, before the Spaniards took that city in 1572.
And he probably was stunned with this discovery.
There, in front of his eyes, was this spectacular treasure of human civilization.
Machu Picchu was a project of the ninth ruler of the Inca, Pachacuti Inca Yupanqui, in mid-1400.
This emperor initiated a series of conquests at the time and created an empire that starched from (today) Ecuador to Chile.
Scientists also believe that Machu Picchu was the emperor's temporary respite.
With an elliptical design, the Temple of the Sun is the most significant structure of the place.
Also, this temple tells us that most of the structures had spiritual meanings.
Rock inside the temple could have served as an altar.
Also, during the solstice of June, the sun directly shines into one of the temple's windows with the indication of alignment between rock, solstice sun, and the window.
Right beneath the temple is a naturally formed cave that Bingham referred to be a royal mausoleum.
More Machu Picchu facts: A city is also a place that didn't survive the collapse of the Inca.
1572 is the date when this magnificent place became only a ruin.
This place has huge importance for today's scientists as it shows us how developed were some nations at the time.
It's also showing how architecturally advanced knowledge the Incan people had because every construction they made was done precisely.
Stunningly precisely.
Machu Picchu is one of the seven world wonders.
The structures were constructed with a technique that is known by the name ashlar, and it is believed that no wheel was used to transport those heavy rocks up there.
In the native language of Quechua, Machu Picchu means Old Mountain or Old Peak.
It's the most important tourist attraction in Peru, but also one of the most important ones in the world, as well.
You might know this place by the name Lost city and it's only because of the great mystery of how they did it – to build a city on the mountain without a wheel or iron tools.
They also built more than 600 terraces to prevent the city to slide down the mountain.
There is also a very clever and perfect water supply system that goes for about a kilometer through the city.
There are just so many reasons why to visit Machu Picchu.
It's an invitation to all people who love history, nature, and hiking.
It's a place that will change the way you see vacation.
Trip to Machu Picchu, when is the right time to visit it?
Are you a hiking enthusiast?
If you would choose your favorite trail in the world for hiking, which one would you choose?
Does Machu Picchu sound interesting?
Check it out.
It may become your favorite one!
The Andes, the Inca trail, and history combined with sports are something you can completely feel in South America.
Peru is home to the most famous ruins in this corner of our planet.
As a crown of the Incan Empire, Machu Picchu is nowadays a lost city of a lost civilization, but also an attractive hiking spot for enthusiasts who are coming here for not just for sports activity, but for their perfect portion of an amazing and unforgettable holiday.
At the time, this unbelievable place was the center of civilization, and it survived for centuries.
The Machu Picchu hike package is divided into two offers.
The first one is 4 days route.
Stone stairs, rushing rivers, various bird species, cloud forest, and spectacular scenery is what can expect if you use this way of reaching Incan lost city.
The route is 26 miles long and if you're hiking at an average speed, you'll reveal Machu Picchu at the sunrise of the last day.
Machu Picchu as a reward of your hiking adventure is something completely unbelievable.
It can change your perspectives and hold on to you for as long as you will remember.
The second is a shorter route and it's only around 9 miles away from the city.
It's two days version and it's called Sacred Trail.
There's a rising number of people of all ages who decide to use this route to climb to Machu Picchu and because of that fact, this version of hiking can be referred to as even more popular one that first we suggested.
And what changed…
Because of the popularity, nowadays you can't hike your personal, cloudy adventure in a peaceful, silent manner, as there are groups walking both, in front and behind you, so it's very common that your adventure might be a noisy one.
4 days hike is also known as a classic or traditional one and 2 days hike as more accessible.
It's very good to know that the first and classic path covers three serious mountain passes and it's more for people who have experience in hiking.
What is extremely important to know?
You must be a part of an organized group that is arranged by an official tour agency.
Individual hiking is PROHIBITED since 2001.
But, you don't have to worry whether you'll find an agency.
Only in Cusco, there are around 150 of them.
Of course, for people who are not fun of big groups in hiking, there's a more expensive option – being a part of a small number of people; their own personal group, again organized by an official tour agency.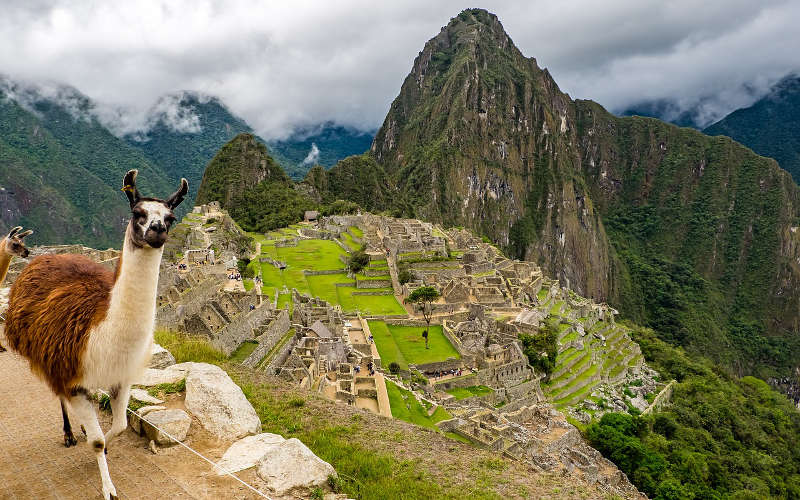 What attracts people the most to this place?
Tales of the legend of a lost city on the Andes, with ruins of "forgotten" civilization; natural scenery that simply leaves you breathless is just a part of the reasons of people who already visited this place.
You need to be aware of your fitness level to choose the tour that suits you the most.
The starting point of your adventure can be the city of Cusco, which is 75 miles away, or Aguas Calientes, only a few miles away.
For more information on the trip to Machu Picchu, click here.
John Muir once said: "Thousands of tired people are beginning to find out going to the mountains is going home; that wilderness is a necessity…", and the trip to Machu Picchu is a perfect combination of all – nature and mountain beauty and human development that is amazing us even now, with the sense of making us different people, after seeing how people were living with the nature centuries ago.
Machu Picchu hike is not only the hiking route.
It's a lot more than just a route.
We suggest that before every trip to Incas lost city, you organize your trip in a way to book some flights or train tickets on time, as this is one of the most visited travel destinations in South America.
Effective preparedness will save you time, money, and nerves that might spoil your perfect holiday.